Skip to Main Content
It looks like you're using Internet Explorer 11 or older. This website works best with modern browsers such as the latest versions of Chrome, Firefox, Safari, and Edge. If you continue with this browser, you may see unexpected results.


Our Panelists
Our Panelists
Chase McCurdy, Artist
William McCurdy II, Clark County Commissioner, District D
Erika Vital-Lazare, Professor of Creative Writing and Marginalized Voices in Dystopian Literature at the College of Southern Nevada
Las Vegas's Historic Westside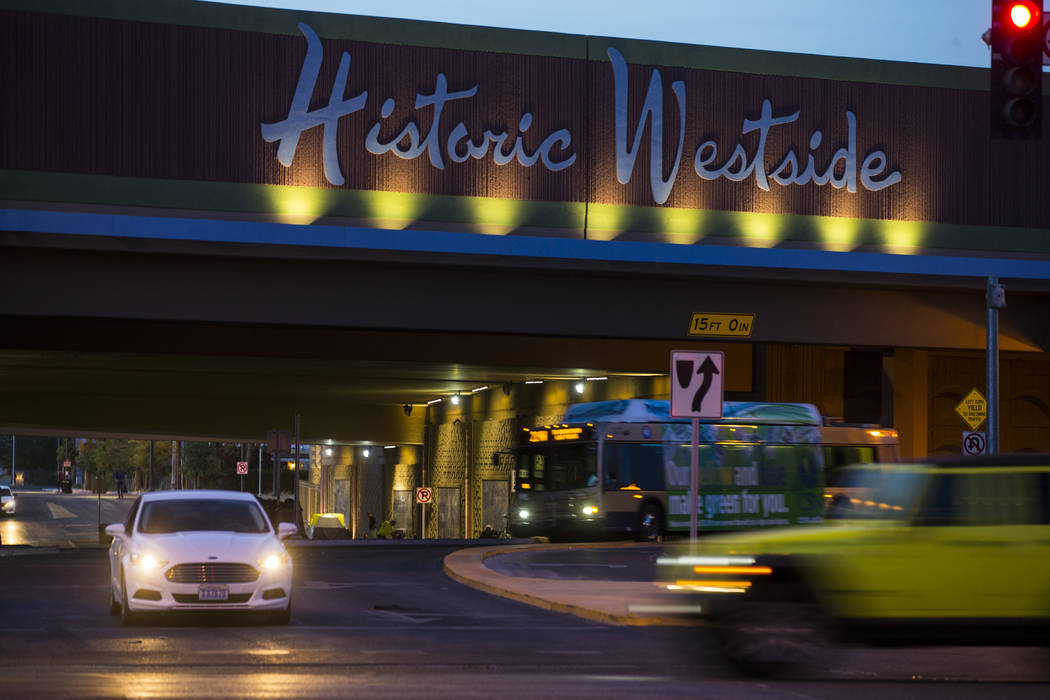 At one time the Westside was the sole black community—the only area where African Americans could live," says Claytee White, director of UNLV's Oral History Research Center, who would like to see that history recognized and celebrated for its uniqueness and past limitations, along with the foundation it provides for the "limitless possibilities of the future."
News You Can Use
Revitalizing Las Vegas' Historic Westside

The Historic Westside is a 3.5-square-mile area located northwest of the Las Vegas Strip and the "Spaghetti Bowl" interchange of I-15 and US 95. Historically an African-American neighborhood, its population has diversified over the years. When thinking about development, it's equally critical to reflect on the rich history and cultural heritage of the Historic Westside.

The HUNDRED Plan In Action

This strategy builds off of an extensive amount of community engagement that
was conducted during the development of The HUNDRED Plan.

Las Vegas breaks ground on $3.2 million Legacy Park project

Construction began on the $3.2 million Legacy Park project in the Historic Westside. It's located on Mount Mariah Drive near Martin L King Boulevard, will feature exhibits and sculptures to highlight the area's history.
Documenting the African American Experience in Las Vegas
Preserving African American History Matters

The Community Partners of the African American Collaborative joined together because each believes in the importance of collecting, preserving and making accessible the history of African Americans in Las Vegas. Our goal is to fully preserve the heritage of the Las Vegas black community—its businesses, schools, churches, social and political organizations, publications, and entertainment. We will continue to locate, link, and curate this vibrant African American history—and make it easily accessible to everyone.
History in the Present Tense
Oral History of Clarence Ray

Interview with Clarence Ray conducted by Jaime Coughtry in 1991. Having arrived in Las Vegas in the 1920s, Ray provides a rare perspective on shifts in race relations over the years. He shares stories of early businesses and efforts at organization within the black community. From his arrival, Ray worked to secure equal opportunity and civil rights legislation. During the 1960s, he served two terms as president of the Voters League, formed in 1928 to increase black voting power.

Transcript of interview with Jerry Eppenger by Claytee D. White, September 14, 2011

Interview with Jerry Eppenger conducted by Claytee D. White on September 14, 2011. Eppenger's family moved from Arkansas to Las Vegas in 1953. Joining the Marine Corps in 1964, he was among the early combatants in the Vietnam War. After a brief time in Alaska, he returned to Las Vegas and found work as a security guard at Bonanza Hotel and Nevada Test Site before attending dealer school. Eppenger recalls local black leaders and describes episodes in segregation and racial relations of 1970s Las Vegas. He shares memories of his beloved Cadillac and the fast and lucrative lifestyle of a dealer.
PBS's African Americans: The Las Vegas Experience
Historic Westside History
Nevada Preservation Foundation

Nevada Preservation moved our offices in the Historic Westside School in January 2017. As part of our service to the Historic Westside community, we offer focused programming on the history and historic resources of this segregation-era neighborhood. This neighborhood is rich in African-American history, and we are honored to be able to assist the community in telling its story.

Berkley Square Walking Tour Brochure

Berkley Square is the first subdivision in Nevada history that was constructed by a Black Architect, for the Black community living in Las Vegas.It was built in 1949 by Paul R. Williams, a nationally renowned architect and has appeared on the National Register of Historic Places since 2009.

Revisiting Las Vegas' Moulin Rouge—The Nation's First Racially Integrated Casino-Resort

Las Vegas still seems like such a new city, many might assume it arrived after the ugliness of Jim Crow and the advances of the civil rights movement. But what has become an inclusive haven was once restricted to whites. Minorities toiled in kitchens and performed for audiences, but they weren't permitted to mingle on casino floors, sleep in hotels or eat in restaurants.