Asians in Nevada Collection - The Sue Fawn Chung Collection on Asians in Nevada (1913-2005) consists of various materials collected by Dr. Sue Fawn Chung in the course of her research on the history of Asians in Nevada. It includes interviews, correspondence, biographical information on prominent Chinese- and Japanese-Americans, and material on the internment of Japanese-Americans during during WWII.
Lily Fong Papers - The Lilly Fong Papers are comprised of the professional and personal papers of Lilly Fong, the first woman and first Asian-American member of the University and Community College System of Nevada (UCCSN), now known as the Nevada System of Higher Education (NSHE) Board of Regents. The papers date from 1964 to 1992 and document Fong's community activities in various Las Vegas and Southern Nevada organizations in addition to her work on the UCCSN Board of Regents. Materials include correspondence, meeting minutes, letters, and press releases from various organizations, including the Board of Regents, the University of Nevada, Las Vegas (UNLV), the American Association of University Women (AAUW), and the First Presbyterian Church in Las Vegas.
Tomiyasu Photo Collection - The Tomiyasu Photograph Collection contains photographs of the Tomiyasu family, a notable Japanese-American family who farmed in Las Vegas from the 1920s-1960s.
Moniru Ravanipur Oral History- Ravaniour is a writer from Iran. In this oral history she describes life in Iran and life in Las Vegas, Nevada as a writer in asylum.
Celebrating Asian-Pacific Heritage Month: A Look at Asian-Pacific Entertainers on the Las Vegas Strip- A blog post about Asian and Pacific Islanders in the Las Vegas entertainment industy.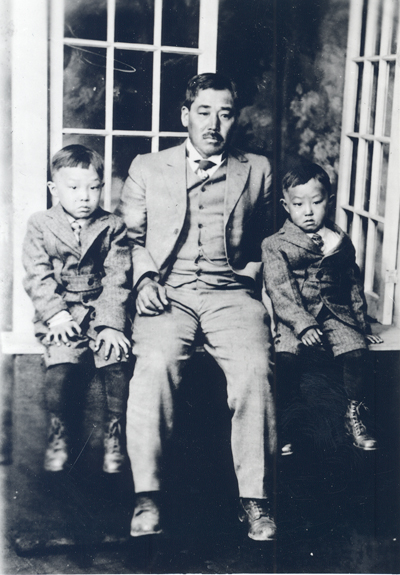 Photo of the Tomiyasi Family, pioneering Japanese-American family in Las Vegas, who provided much of the produce used to feed the workers building the Hoover Dam (from the Tomiyasu Collection, UNLV Special Collections).